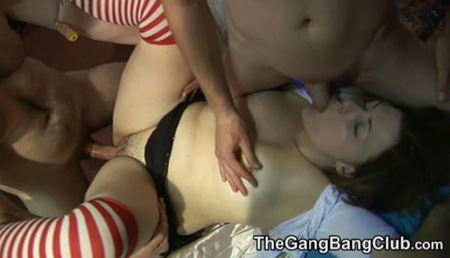 Well I've told you before how filthy slut Isabel loves fucking and sucking cock and here she is again. She has took one of her friends named Robyn along to the gang bang club to show her the very many pleasures what go on inside its doors.So Isabel who is wearing nothing but a pair of stripy long socks is on her back again with her legs over some filthy blokes shoulders has he pushes his erect cock into her sticky pussy hole, he fucks her hard going in and out very fast has she moans and groans in sheer delight enjoying the feel of his cock which is ramming her hole hard, Another dirty bloke strolls over and Issy grabs his dick popping it into her mouth and sliding it deep into her wet and very willing mouth, boy can this girl suck a cock and I wish it were mine inside her mouth cause she would sure be swallowing my spunk has I erupt into her wet mouth.
But enough of my dirty thoughts and back to the video where her friend who is quite chubby and has nice huge tits is being fucked from behind by a black guy and he must have one hell of a cock cause she is screaming her head off has he rams it in from behind and grabs her tits squeezing them hard.Back to Isabel who is now really having some fun has she gets into the doggy position and gets a cock shoved in her mouth has another bloke slides his cock into her hole from behind and starts to pound it hard going faster with every stroke has his balls smack her arse cheeks. Issy gets fucked hard and moans and gags with delight has the cock in her mouth erupts like a volcano making a very sticky mess in her mouth but the greedy girl swallows it down her throat savouring the taste.
Now come on this is well worth a watch at the gang bang club!